On Sunday, 22nd of September, 2019, just a week after I ran at the Vienna Charity Run, my kids and I ran at the Hernalser Herbstlauf 2019.

My twins, five years old turning six this year, did the Juniors Run 400 (400m) and finished at place 4th and 8th within their gender-age-group.
My older daughter, nine years old, took place at the Juniors Run 1200 (1200m). She finished 8th within her gender-age-group.
I am very proud of my kids and what they achieved.

After all the kids were done with their Junior Runs, the Alleelauf, over 5.1km, started.
The running course was like this. First, one round on the running track, then the running course left the sports place and followed the Schwarzenbergallee and led back to the sports place where the finish was.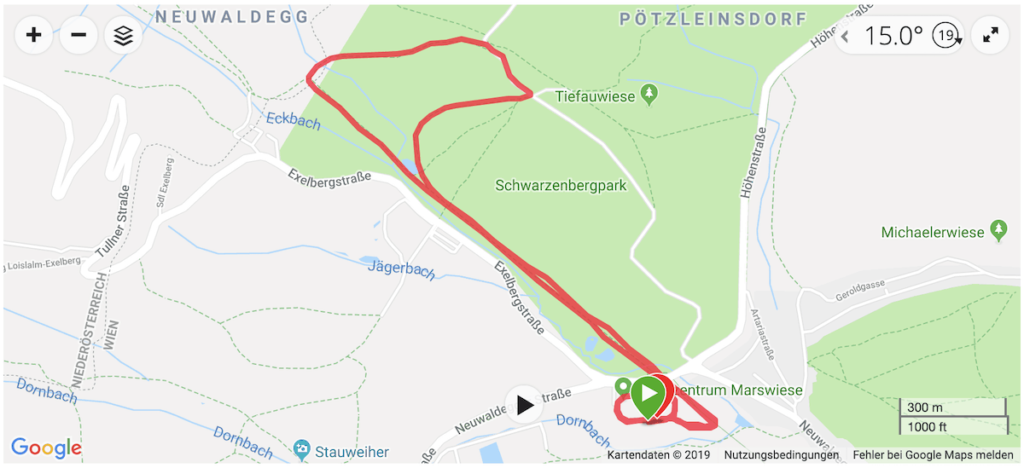 My Hernalser Herbstlauf 2019 recap
Shortly after 10 a.m., I started running. The first few meters, I ran too fast, almost at a pace under 4min/km. As such, I reduced my pace to approx. 4:20min/km. I reduced my pace even more to something at around 5:00min/km throughout the whole route.

As soon as the course left the sports place, I had to run uphill for almost 2km.
Since running uphill is nothing that I'm used to, that was a quite challenging route-section for me.
At this course, there's a vertical meter difference of about 77m. That means I had run uphill for the first half of the whole route and afterward downhill for the second half of the race.
On this day, the weather was good. It was windy, but it had almost 18°C. Maybe a bit less wind would have been excellent, but besides that, the weather was just right.
In the end, I finished my run after 23 minutes and 19 seconds. My goal was to finish the 5.1km at the Hernalser Herbstlauf 2019 in less than 24 minutes – as such, I would say, I successfully reached my goal.

The best part ever, I still can't believe it. I did the 3rd place within my gender-age-group and even got a beautiful trophy for it.
Here you can see a more detailed overview of my Hernalser Herbstlauf 2019 result. MaxFun Sports did the timekeeping.
So far, so good!
Maybe we see each other next year at the Hernalser Herbstlauf 2020!
If you are interested where you can still meet me in 2019, check out the other running events I attend this year.
---
You are curious why I share this experience with you, no problem. You can get a hint here.
If you want to know more about me or even get in contact with me, you can find more info on my contact page.